HOME | CAREER | GALLERY | ARTICLES | LINKS | TUMBLR | RJC STONEWOOD
Starlog #148 / November 1989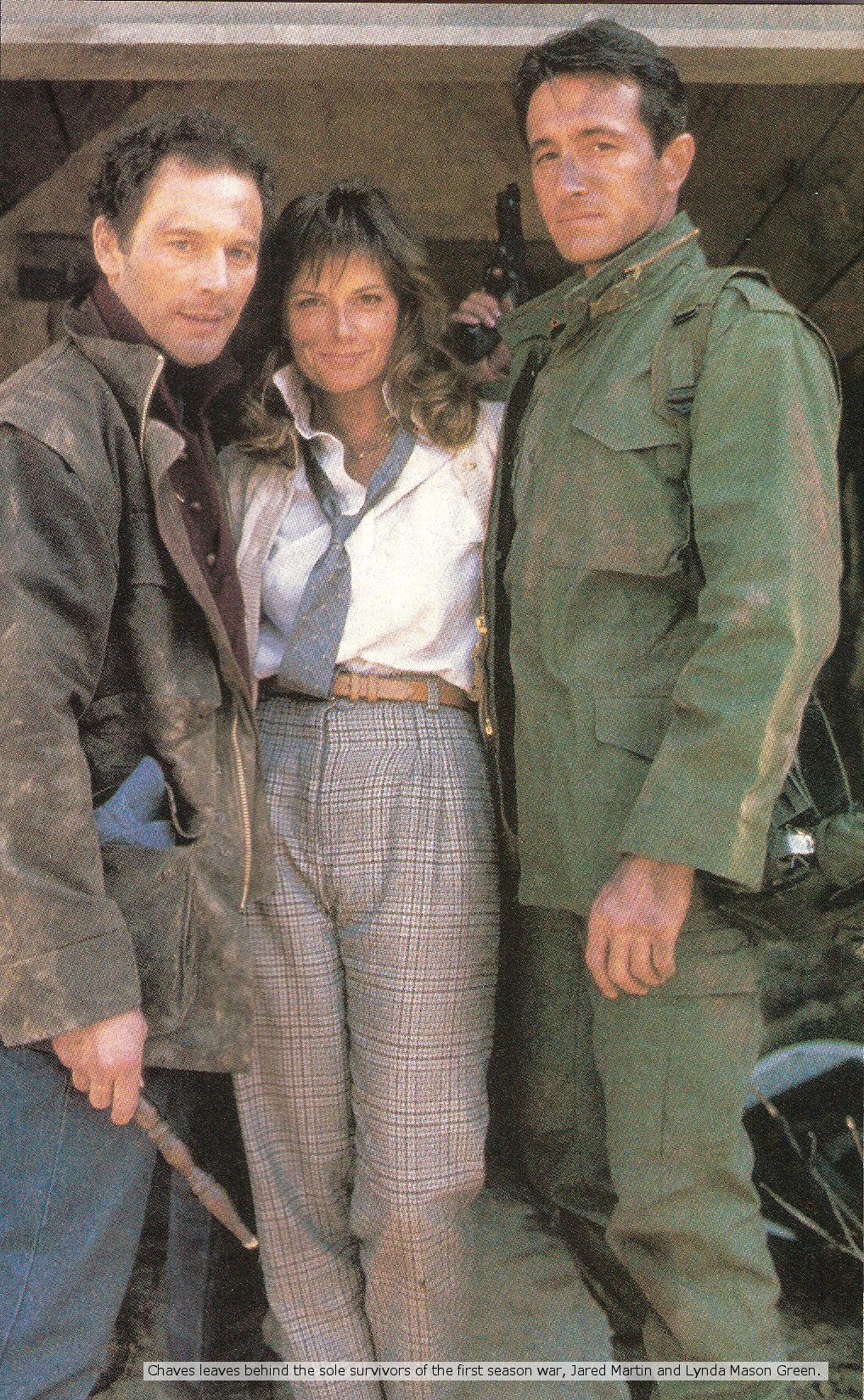 Casualty of War
Richard Chaves bids farewell to alien battles. But, he says, don't worry about him. He's a survivor.
by Peter Bloch-Hansen
Richard Chaves walks across the set. He is on location in a huge, dingy, abandoned building in Toronto, Canada. He is preparing to die.
Grips and extras watch him pass, admiration on their faces. Why is Lt. Col. Ironhorse, War of the Worlds' most popular character, dying in the second season premiere of the redesigned syndicated series? "It was a business decision that Paramount made," comments Chaves, "and not because they were unhappy with my talent or skill as an actor. My agent is ecstatic."
Later, in his spacious hotel suite downtown, Chaves more full discisses his departure from War of the Worlds. "At first, I was a little upset," he admits. "About the middle of April, I got a personal phone call from Seve Nalevansky, who is one of the supervising executives at Paramount [Vice-President for Creative Affairs]. He was very sad. I consider Steve a friend, the first executive of any big company that I've ever had the occasion to befriend. Hetold me that Frank Mancuso Jr., th new executive producer of War of the Worlds, had made a decision to not pick up my option. He said that Mr. Mancuso felt that Ironhorse had been painted into a corner and didnt feel that in his new concept and direction for the show, Ironhorse could go any further. They were all upset about it, but theyall felt it was an absolutley necessary business decision to radically update and change the show.
"Then, about a week later, I got a letter from Bob Wertheimer, [Executive in Charge of Production at Triumph Entertainment] putting it in writing, again saying that they loved my work and that they were very appreciative. At one point in the letter, he said that if it hadn't been for me, the show would not be where it is today. They are very thankful for my work on the series."
However, Chaves clearly is neither depressed nor bitter. "When I talked to Frank Mancuso Jr. - on the set later - he was very lind and concerned," the actor says. "He made his decision before he was told who the show's most popular characters were. It was very difficult for him. he wanted to make his decision solely from what he saw of the show, woth everything else aside. Since then, from what Frank told me, he has been inundated with a tremendous amount of mail, now that people are finding out I'm not coming back. It got to the point where he finally had to respond because people wer very upset.
"He knew then that he had to resolve the character in a really good way, that is, write a script which would revolve around Ironhorse, which they did. Aas hard as it was in the beginning for me to accept their decision, I was very fl;attered and grateful when I saw the script. They've been bery kind to me. The episode, even though it'll be my demise, I think will be one of the best shows I've ever done. It's going to be very dramatic, very heart-wrenching. I play a dual character, Ironhorse One and Two.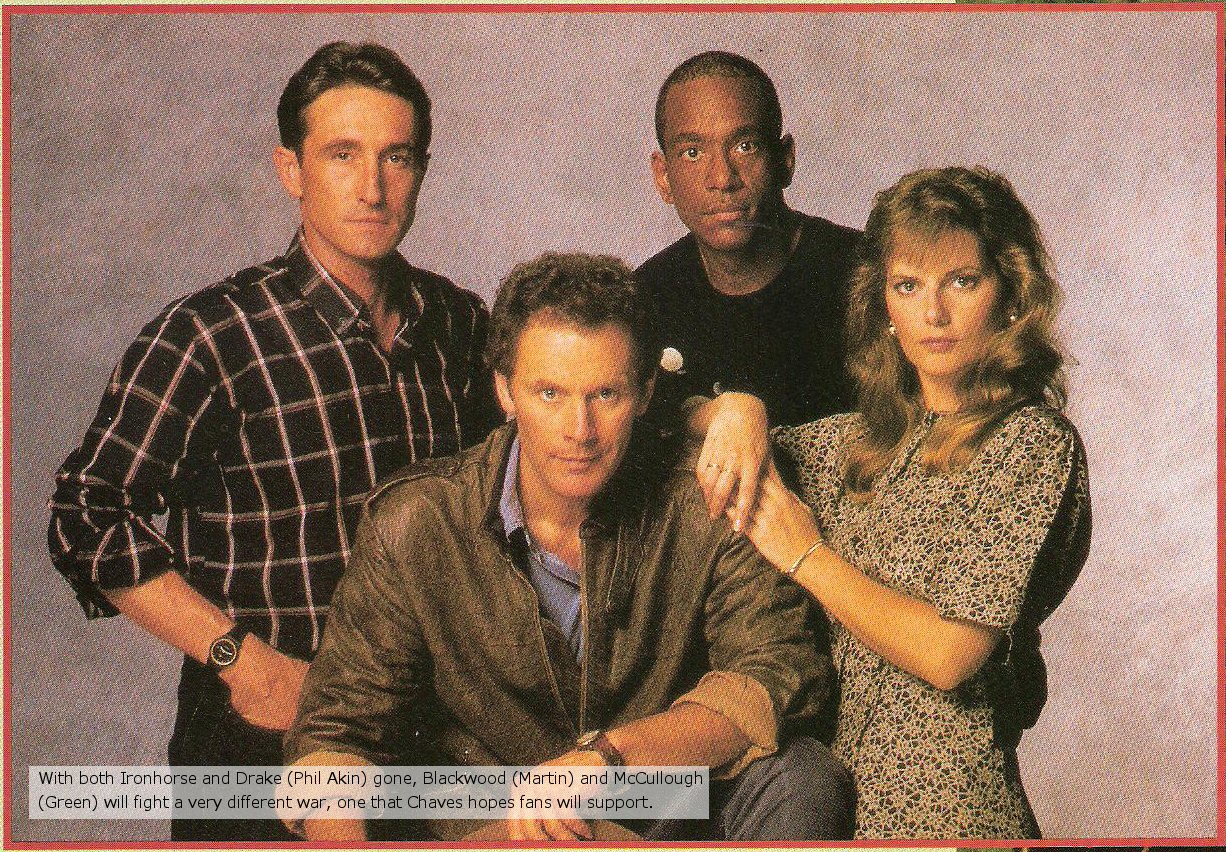 "When I got the phone call, I was shocked. I was very emotional. I rememberI hung up the phone and went into my room. I'm one of those people who has all my pictures, all my memorabilia on the walls. It reminds me of where I am. I sat down on my bed; I looked around my room and saw pictures of Jared Martin and me, photos of me from the show, and War of the Worlds memorabilia. I started crying and really fell apart because I didn't understand and was really hurt. Then, I gathered myself together, and I went out and played golf, which is always a calming thing for me. I shot an incedible round. I was really hitting the ball a long way."
Admits Chaves, "It was kind of crazy for a couple of weeks after that. It wasn't anybody's fault. They were very gentle with the blow, but after the fact, there was a miscommunication as to whether they were going to have me back for the first episode. Then, we went into this period of confusion. Were they going to resolve my character, would I go back for the show, would we be able to work a deal - there was a money situation that we had to resolve - and what was the script going to be like, how were they going to treat the character? We didn't finalize the deal for me to come and do the show until almost the end of June.
"I did not get script approval contractually, but was given approval on many different aspects of the script, in regards to dialogue and presentation. I did know the basic outline of what was going to happen, but I did not see a script until I had agreed to do it. The script was subject to changes. They were very open as to my input. They've always been very considerate and respectful of my knowledge of the military aspect. They worked with me and took my advice, and I'm very happy about it. We have not stone-walled on anything. It was, 'OK, Richard, fine' or 'Yeah, you're right.' I'm happy with the script, but I wish we had a couple more days to film. But, as the case of episodiv [TV], it's fast and furious. Sometimes, you just can't look back. But, they have bent over backwards to make this a very hot new beginning.
"Now," says Chaves, "I want to think of all the wonderful things that have come from this year - my first TV series. Financially, I've been able to help my mother: I've bought a condominium for her. At 37 years of age, I've bought my first dream car, an '89 Corvetter. Those are the material things. There's the exposure - I couldn't have bought that kind of exposure. But, the most important thing to me is my fans, and the people who have expressed their love of me. I guess one of the subconcious reasons I got into this business is that I love to communicate and I love the attention. I love to affect people. To affect people with a real-life experience that I had gone through, to make someone believe in a truth, or to make someone believe in the possibilty of extra-terrestrials is very gratifying. The attention and the love I've received from my fans is overwhelming."
Long Goodbyes
Chaves (who previously discussed his career in STARLOG #144) gets more mail than any of the other War of the Worlds actors. "The last percentage I heard is four or five to one," he says. From his bedroom, he produces a large bag of fan mail filled with cards and gifts. "I haven't had time to answer this all yet," he observes apologetically, "but I will. I need somebody to help me, someone who takes shorthand.
"This is the most important thing," he continues, "the friends I've made here in Toronto, the cast and crew and, even though I'm not coming back with War, a healthy, ongoing realtionship with Paramount. They respect my talent, and I truly believe I'll work for them again."
The telephone rings. Chaves takes it in the bedroom, to emerger a few moments later laughing. "That was Jared [Martin]," he says. "He asked me to say that the woman he's dating is Margaret Trudeau." The lady mentioned had a brief international npteriety as a playgirl between her separation from Canada's then-Prime Minister and her subsequent remarriage. "That's Jared's sense of humor," Chaves says, grinning. "He's a monster-brain."
Chaves has mixed feelings about leaving Toronto. "It's tough for me," he confides, "because I've made so many friends up here - in the apartment building where i lived, the crew and the cast, Jared. I love Jared as a brother and I'm going to miss him a lot. I pray that I'll be able to work with him again. We had that manly camaraderie, which is something I've always had, ge=rown up with in my life. I experienced that as strongly with Jared as I have with any other male actor in my career. I felt it wit Arnold [Schwarzenegger], who was very kind to me, and with some of the guys in Tracers, but with Jared, it was something special. We literally went through the first year of the War together.
"I'm a California kid. I'm an avid golfer. I act and I play golf. That's it. I do not like living in a cold weather situation. I love to snow ski, but that's only a couple of weeks and it's a vacation situation. to work up here [in Canada] for foru or five moonths in freezing temperatures is unbelievably devastating. I have an enormous amount of respect for the Toronto crew. they get out there for 15, 16 hours. I get to go to my dressing room. They have to stay out there. I don't see how they do it.
"The weather had a big effect on me and I didn't like it. I dealt with it by going to the Don Valley Golf Course in the middle of winter and with my knife, trudging up the ground so I could get my tee in. The greens are like ice, and there's nobody out there, but I take a bucket of my balls and go out and hit balls while wearing a down jacket. It was horrible. That was the major negative thing for me. If I had to come up here and work in it for four or five weeks, now that I could handle, but for months on end would be very difficult for me. It was unbelievably devastating. There was a time, before I found out I wasn't coming back when I seriously considered taking an option to get out of my contract. I just didn't think I could continue to live and work under these weather conditions."
Chaves carries away many happy memories of the show, especially of its guest stars. "It was wonderful to work with John Ireland and Jeff Corey [both in "An Eye for an Eye"]," Chaves says. "Jeff found out that I was a Vietnam veteran. Here was a man who ws blacklisted during the McCarthy times and his career almost destroyed [see the Corey interview next issue]. I was having makeup put on in the dressing room and Jeff came in. He started crying. 'I hear that you were one of the authors of Tracers,' he said. 'My students do monologues from you play all the time.' Moments like that are few and far between. I will never forget them.
"Meeting Ann Robinson was great," he continues, "Talking to her about the movie [War of the Worlds (1953)] and about Gene Barry. I'll never forget sitting about 100 feet underground in this dirty, dirty subway with Jared, listening to John Colicos [STARLOG #138] telling us about his drinking days with Richard Burton. I don't think John has ever gotten the recognition he deserves. I didn't get to work with him that much myself, but I stood on the sidelines and even came in a couple of days when I didn't have to, just to watch him work. John has a style, a presence, a presentation. His phrasing, his speech and delivery are so powerful. My homework is to watch other people, other actors, the common man. I learned a lot from watching John Colicos.
"There were many crazy moments. Jared and I were comstantly going crazy on the set, just to break things up. I was slimed the other night in this cloning thing that happens [in the premiere episode]. That was pretty hysterical. All my female fans, I'm sure will go nuts over this: I've never taken my shirt off on the series, so this wwill be the first time. I'm in a kind of codpiece, like the dancers wear, kind of a jockstrap, completely naked except for this little piece of cloth. In the shot, they judiciously cover it with alien tissue stuff. It was very uncomfortable once they put the slime on me, coverednmy entire body with goo. It was freezing cold. Thank Gog I still have a decent body. Some of the girls on the set were going, 'Hey, woo, woo.' I was getting teased a lot and it was pretty funny. I was embarrassed about it at first. You get on the set and take your robe off and there you are. The scene took about four or five hours, but after the first hour, I was just walking around in this little nothing. It was funny because the girls were pinching me on the butt and everything."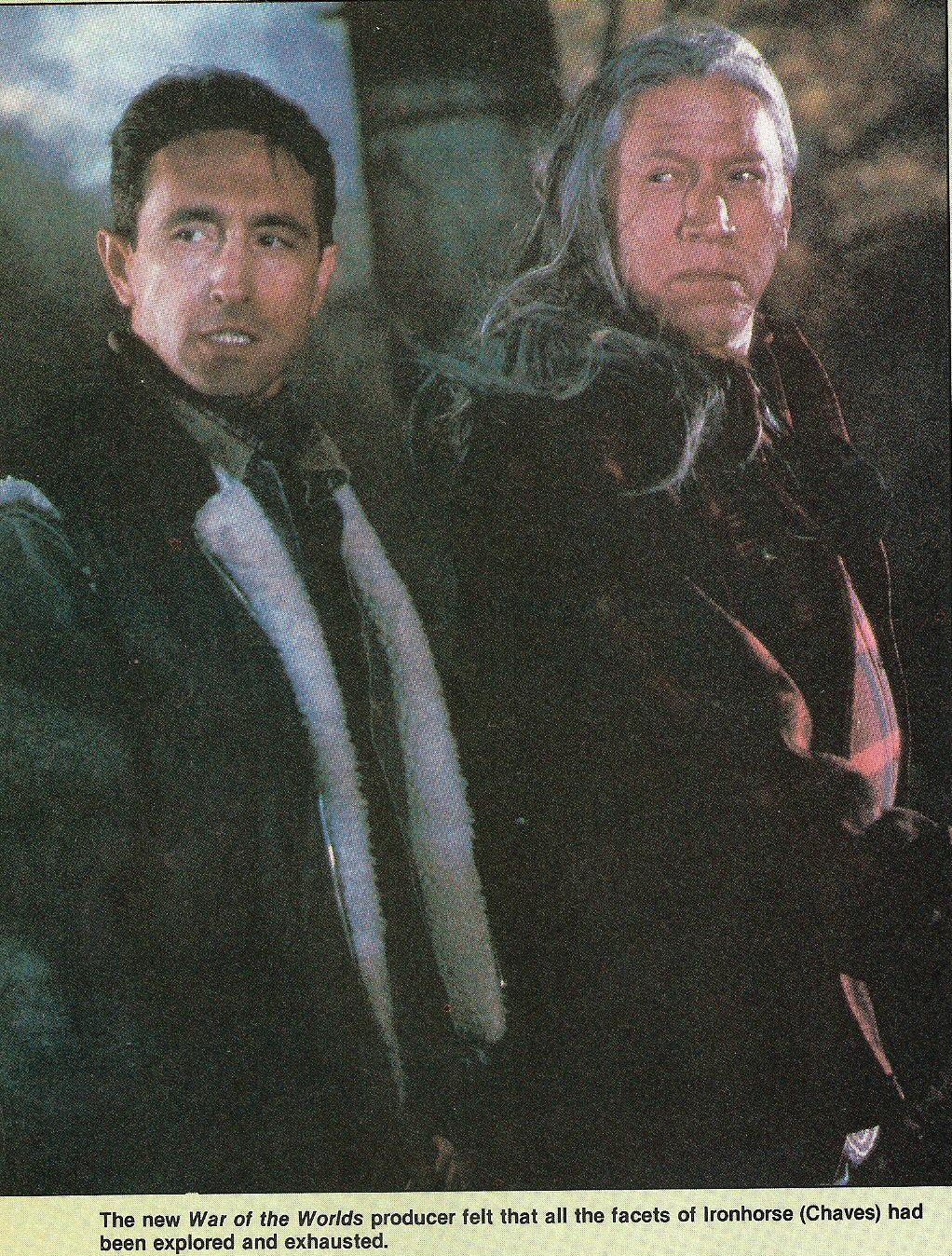 Fond Farewells
Chaves hopes War continues. "I pray that all the fans will throw their supprt to the new format of War of the Worlds," he says, "because I think it's going to be exciting. It's the direction I was thinking about. I wanted the aliens to be in control, us on the run. It was too safe for us. We had our battles and everything, but now the aliens have the upper hand. I wanted us to capture one of those spaceships and go out and meet them in outer space."
Of his final scene as the colonel, Chaves says, "It was pretty emotional. Before we shot - we were out at the Cottage, which is by a beautiful lake - I went for a walk alone. One solitary, beautiful, long-necked white swan drifted out from behind a willow tree and looked at me for a few moments. I'll always remember that. But, my final line is to Debi [Rachel Blanchard]. I started to cry. I was pretty overwhelmed and had to have my makeup redone. I had to spend some time by myself. The character goes out with pride, that he has defeated those s.o.b.'s one more time. Later, I went back to my trailer and took off the uniform for the laast time."
As for the character of Paul Ironhorse, Chaves is unequivocal: "He is a friend, and I'm going to miss him. I'm a little bit more liberal than he is, a little looser. I'm not as consevative and stiff, but in a fight, I would sure like to have him covering my ass. In my fantasies. I would like to be him for a while, if we ever had a foe out there like the Morthren. I feel that I'm a warrior in the survivalist sense. I'm trained to be a warrior, but I would have to go through a lot to be Ironhorse. Give me eight weeks in boot camp again and I would be ready to go out and kick some ass."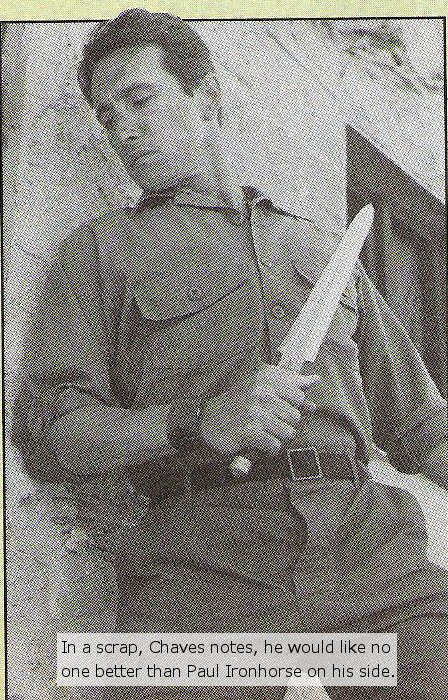 Chaves is confident that War of the Worlds can make it without him. "I don't know that letting me go is as radical as firing the Fonz [from Happy Days]," he opines. "I think I made a very big and important impact on the show, but I'm not the first to be involved with War of the Worlds. We have to go back to the beginning, to H. G. Wells, Orson Welles, Ann Robinson, Gene Barry. The concept, its intrigue, has continued. This is just a changing of the guard. It would be selfish of me to think I'm anything but another palyer in the piece. I'm passing the baton to Adrian Paul. He has the ability and potential to carry it. The basic concept still has the power. War of the Worlds has intrigued people for almost 100 years now. Of course, it will still go on.
"You have to turn thise things into a positive. The positives of all this far outweigh the negatives. I'm a survivor. I could be in the mountains of Colorado right now if I wasn't able to turn my Vietnam experiences around to benefit me. That was one of the first big challenges of my life. I've been able to do an episodic thing with a great character, but I won't be typecast. I won't be known for the rest of my life as Ironhorse. I did a network piece with Michael (Miami Vice) Mann called Panic which is coming out. I'm supposed to do a PBS documentary as narrator and interviewer in three half-hours on the three major battles of Vietnam. I have meetings with CBS in a few weeks for a series. I've written them five treatments for five episodic showa, so I might have my own show. It's great now, people know me. It's much easier to get in the doors, and it's all because of Predator and War of the Worlds. And I'm still doing the science fiction convention circuit. Now that I've achieved it, I can even do more."
Chaves leans forward in his chair, hands on knees. "I want to say something to my fans," he states quietly. "Don't be negative about what has happened. It's a step in my career. I get to go on to bigger and better things now. Please give your full support to the new cast, especially Adrian Paul. I know there have been some angry letters and that people are upset about the decision, but it was a business decision. This is an evolution of War of the Worlds, and I think this will be better for me. I love my fans and I thank them from the bottom of my heart for this year."
With that, Richard Chaves grins, pinches his throat and speaks in the alien tongue, "'To life immortal.'" ※